One of the largest collections available on the internet of concert and

music reviews, interviews, and other articles in text & on mp3.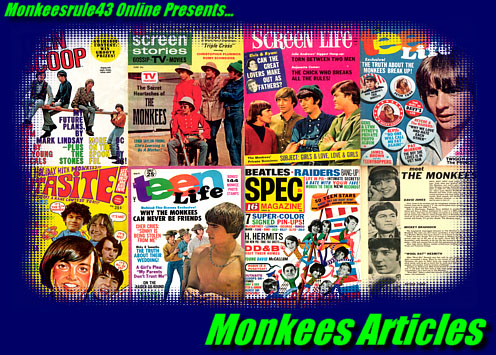 NOTE: Monkeesrule43 Online is not responsible for any opinions or views expressed by an article's author. You must have
Real Player
to play mp3 interivews. No mp3 interviews are known to infringe on any copyrights and are used for entertainment & reference purposes only.
Page URL: http://www.monkeesrule43.com/

articles.html

Site Best Viewed With:

Internet Explorer / Medium text size / 800x600 screen resolution / Javascript enabled / Flash Installed

Disclaimer:

All photos are property of their respective owners / All content is © Monkeesrule43 Online unless otherwise noted.

Didn't find the information you were looking for?  Want to send comments or suggestions?

Email the Webmaster at: