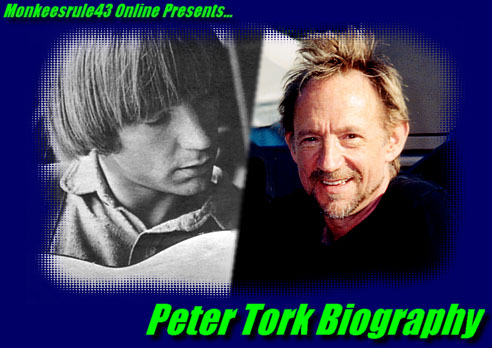 Learn about the life of Peter Tork through a detailed

biography, discography, and other miscellaneous information.

Solo Discography

1994               Stranger Things Have Happened

1996               (With James Lee Stanley) Two Man Band

1999               (SSB) Shoe Suede Blues Live

2001               (With James Lee Stanley) Once Again

2002               (SSB) Saved By The Blues

Peter Halsten Thorkelson was born on February 13, 1942, in Washington D.C.  He is the son of John and Virginia Thorkelson and sibling of a sister and two brothers.  As a child, his family moved to Connecticut, where some of his family still lives today.  Even as a young boy, Peter showed musical talent and could play the guitar and banjo.  In the early 60s, he left home to join the Greenwich Village folk scene where he performed for a few years before making the big move to Los Angeles, CA in the mid-60s, when he changed his name to Tork.

In the fall of 1965, Peter's good friend, Stephen Stills, encouraged him to go audition for a new TV show about a Beatles-like band.  Soon after, he was chosen to become a member of the TV and music smash, "
The Monkees
."  Though The Monkees were still very popular, Tork left the group at the end of 1968 due to personal and professional reasons. 
Not long after The Monkees, Peter formed the company, BRINCO (Breakthrough Influence Company) that would produce both movies and records.  The company didn't last long and Tork's life had gone down hill after being caught with possession of drugs.  Now a recovering alcoholic, Peter has been clean for over 20 years, which is an accomplishment he has become very proud of.  In the early-70s, he played guitar for the group Osceola.  Also during this time period, Peter became a social studies, math, and music teacher for a California high school for a year and a half, before returning to show biz.  In 1976, Peter joined
Dolenz, Jones, Boyce & Hart
onstage for a concert on their tour.  Later that year, he, Dolenz, and Jones recorded a new Christmas single for that holiday season. 
In the early-80s, Tork formed a band called The New Monks and released a 45 single, "Peter's Back," containing "(I'm Not Your) Steppin' Stone" and "Higher & Higher."  After The New Monks separated, he created The Peter Tork Project.  But in 1986, his solo career was put on hold when The Monkees reunited for their
20th Anniversary
.  This successful reunion lasted until the end of 1989.  Although Peter was the first to leave The Monkees originally, he never released a solo album until his self-produced 1994 effort, "Stranger Things Have Happened."  Also in 1994, Tork, Tadg Galleran, and Michael Sunday formed
Shoe Suede Blues
. Peter has performed with them on and off since the band's creation.  1995 saw Peter making a guest appearance on "The Brady Bunch Movie" as well as multiple guest spots in the TV show "Boy Meets World."  In 1996, fans saw more new music from Peter, when he and good friend James Lee Stanley recorded "Two Man Band."  For a good portion of that year and 1997, The Monkees had reunited again for their
30th Anniversary
.  In 1999, "Shoe Suede Blues Live" was released on the internet and at SSB concerts.
More recently in 2001, Tork and James Lee Stanley collaborated on their second effort as a duo, with "Once Again" before Peter
re-joined
Micky Dolenz & Davy Jones for tours that took up most of 2001. Soon after, he went back to Shoe Suede Blues and in early 2002, the band released a follow-up to their debut album, called "Saved By The Blues."  Peter is an accomplished musician that can play an outstanding amount of instruments such as banjo, guitar, bass, piano, drums, organ, keyboards, and more.  Look for more
concerts
and recording in 2005 with Shoe Suede Blues & James Lee Stanley!
Quick Facts

Height: 5' 11"

Quote: "You should be a hero to yourself, and if you aren't... check it out."

Popular Monkees Contributions: "Your Auntie Grizelda,"  "Shades of Gray," "Words"

Favorite Episode: Fairy Tale

Contacting Peter:  524 San Anselmo Ave. #102, San Anselmo, CA 94960

Family Information

Father:  John Thorkelson

Mother:  Virginia Thorkelson

Sisters:  Anne

Brothers: Chris & Nick

Marriages:  Reine Stewart (Divorced), Jody Babb (Divorced), Barbara Iannoli (Divorced)

Children: Hallie (1/25/70), Ivan (12/22/75), Erica (?/?/97)

Grandchildren:  None




Page URL: http://www.monkeesrule43.com/

peterbio.html

Site Best Viewed With:

Internet Explorer / Medium text size / 800x600 screen resolution / Javascript enabled / Flash installed

Disclaimer:

All photos are property of their respective owners / All content is © Monkeesrule43 Online unless otherwise noted.

Didn't find the information you were looking for?  Want to send comments or suggestions?

Email the Webmaster at: