Solo Discography

1977
From a Radio Engine to the Photon Wing
1977
Best of Michael Nesmith
1978
Michael Nesmith Compilation
1978
Live at Palais
1979
Michael Nesmith Radio Special
1979
Infinite Rider on the Big Dogma
1989
Newer Stuff
1991
Older Stuff: Best of Michael Nesmith (1970-1973)
1992
Tropical Campfires
1993
Complete
1994
The Garden
1997
Listen To The Band
1998
Masters
1999
At The Britt
1999
16 Original Classics
2000
Magnetic South/Loose Salute
2000
And the Hits Just Keep on Comin'/Pretty Much Your Standard Ranch Stash
2000
Timerider: The Adventure of Lyle Swann
2000
Michael Nesmith
2001
(Various Artists) Papa Nez: A Loose Salute To The Work Of Michael Nesmith
2001
Nevada Fighter/Tantamount to Treason
2002
Best of: Original Hits
2002
Silver Moon
2002
The Long Sandy Hair of Neftoon Zamora on 6-CD Audio
VIDEO

1981
  Rio and Cruisin'
1981
  Elephant Parts
1985
  Dr. Ducks Special Sauce
1985
  The Television Parts Home Companion
1989
  Nezmusic
1992
  Live at the Britt Festival
2003 Title Photo: Susana Millman

Robert Michael Nesmith was born on December 30, 1942 in Houston, TX.  His mother, Bette invented liquid paper and would later leave the $20 million estate to him.  Affectionately nicknamed "Nez," he learned to play saxophone as a young child and would join the United States Air Force years later.  After two years in the Air Force, he left to pursue a career in folk music.  In the mid-60s, he left home to move to Los Angeles, CA, with the intent of getting into the movie business.  During this time he formed the duo, "Mike & John" and recorded several solo singles under the name "Michael Blessing." 

With hopes of getting a job as a songwriter, Mike auditioned for
The Monkees
in late-1965.  While still a member of The Monkees, Mike's first solo album, "The Wichita Train Whistle Sings," was released in 1968 and reached No. 144 on Billboard's charts.  Also in 1968, "Different Drum" a Nez written song, became a major hit for Linda Ronstadt and the Stone Poneys. By 1970, Mike had left The Monkees to form The First National Band, which would begin his successful solo career as the "Father of Country-Rock."  Mike and The First National Band would sign to RCA Victor and release two albums in 1970, "Magnetic South" and "Loose Salute."  Along with the albums, "Joanne" reached No. 6 on the Adult Contemporary charts and No. 21 on  the Pop charts, and "Silver Moon" peaked at No. 7 on the Adult Contemporary charts and No. 42 on the Pop charts.  In 1971, The Second National Band was formed to release "Nevada Fighter" that year and "Tantamount to Treason" in 1972.  In 1972 the band separated and Nez was left to record "And the Hits Keep Comin.'"  After 1973's "Pretty Much Your Standard Stash," Michael left RCA Victor to form Pacific Arts in 1974, after the failure of his "Countryside" label.   In 1977, the hit single, "Rio," and its accompanying album "From a Radio Engine to a Photon Wing" were released as was Nez's TV chart show "Pop Clips."  The show further developed Mike's idea of music videos, which was later bought from him by Warner who developed it into MTV.  1978 brought "Infinite Rider on the Big Dogma," which would turn out to be his last album for over a decade.  While he held off on his music career, Mike produced short films for "Saturday Night Live" and "Fridays" in 1979.
By the early-80s rolled around, Pacific Arts was one of the most successful companies in the country and Nez had won the first ever Grammy for "Best Music Video" in 1982, with "Elephant Parts."  He even starred in his own comedy TV series called, "Michael Nesmith In Television Parts" that aired on NBC for eight episodes.  After making two guest appearances with The Monkees in
1986 and 1989
, he released his first album in over 10 years in 1992, titled, "...Tropical Campfires..."  Nez supplied background vocals for
Peter Tork
's 1994 solo album as well as releasing his own solo album "The Garden," which was nominated for a Grammy Award in the new age category.  For most of 1996 and early 1997, Mike participated in
The Monkees' 30th Anniversary
.  During this time, he also formed a new company, Videoranch, which would be the home of his past and future projects.  Nez showed he was a worth novelist in 1998 when his first novel, The Long Sandy Hair Of Neftoon Zamora, was released.  He spent 1999 touring the country to promote the book, which would be released on audio CD in 2002.  Also, near the turn of the century, Nez won over $47 million in a court case with PBS that had destroyed Pacific Arts. 
Now Nez is keeping busy re-issuing his solo material on compact disk and video through Videoranch.  In 2006, he's trying to find a publisher for his already-finished second novel,
The American Gene
, and will release his new solo album "Rays," which could lead to a promotional
tour
.
Quick Facts

Height:  6' 1"

Quote:  "Not only were the Monkees not a hoax to me, I thought it was first class landmark television and I have always been proud of it."

Song Highlights: "Listen To The Band,"  "Circle Sky,"  "Papa Gene's Blues"

Favorite Episode: Fairy Tale

Contacting Nez: Videoranch 8 Harris Court, Suite C1 Monterey, CA 93940

Family Information

Father:  Major W. A. Nesmith

Mother:  Bette Nesmith (last name changed to Graham after her 2nd marriage)

Sisters:  None

Brothers:  None

Marriages:  Phyllis Barbour (Divorced), Kathryn Bild (Divorced) & Victoria Kennedy

Children:  Christian (1/31/65), Jonathan (2/4/68), Jason (8/7/68), Jessica (9/10/70)

Grandchildren:  Yes; names not known

Learn about the life of Mike Nesmith through a detailed

biography, discography, and other miscellaneous information.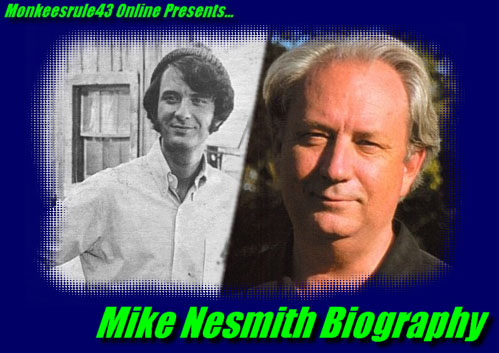 Page URL: http://www.monkeesrule43.com/

mikebio.html

Site Best Viewed With:

Internet Explorer / Medium text size / 800x600 screen resolution / Javascript enabled / Flash installed

Disclaimer:

All photos are property of their respective owners / All content is © Monkeesrule43 Online unless otherwise noted.

Didn't find the information you were looking for?  Want to send comments or suggestions?

Email the Webmaster at: